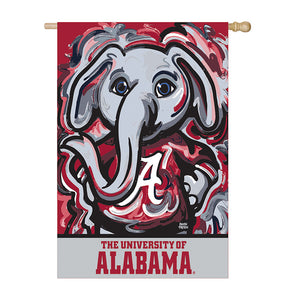 This University of Alabama suede House flag comes from the inspiring work of painter Justin Patten. This design features Big Al, the official school mascot. Also featuring vibrant Alabama colors, this garden flag is the perfect way to show school spirit all year round. This Patten piece is truly one of a kind and makes a great gift for a supporter of the University of Alabama. This Suede Reflections flag is made of medium-weight, polyester suede that provides a soft and durable texture. Artwork is heat transferred onto the sun-blocking material so that it is easily viewed from both sides. The weatherproof poly-suede will not fray or fade with continued outdoor use. The brilliant colors make any Suede Reflections flag the perfect addition to your garden or yard. This flag features a sleeve for use with any standard flagpole or stand, sold separately.
Dimensions: 29" x 43"
Artists: Justin Patten. All rights reserved.
SKU: 13S924JPA