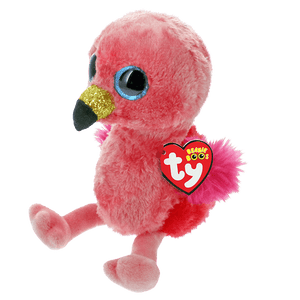 Though her beak is black and yellow, Gilda started life quite grey and mellow. Yet as she ate so many krill, her bright color began to fill! Flamboyant and fabulous, Gilda can't wait to strut into your life!
Made with snuggly Ty Silk fabric.

Sparkly glitter eyes and sparkle accents.
Flamboyant and fabulous
Gilda loves to impress.
Includes official Ty Heart with birthday and poem.
Gilda birthday is February 26th
Surface clean only
Medium: 13 inches
Large:  16"


 SKU:    TY-37262  - Medium
 SKU:    TY-36892  - Large